It is no secret that along with fame comes fortune. Our favorite celebrities earn big fat paycheck the more their names become recognized by the majority. Thus, it is almost everyone's dream to be a superstar.
But how much do they get really paid? We know it is enough for them to get really nice houses and cars. However, it is still shocking to know how much some of them get paid.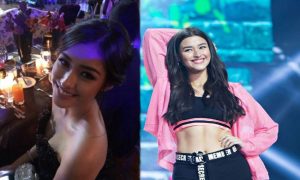 One of which is Liza Soberano. Her pretty face landed her second place in the World's Most Beautiful last year. After stunning everyone with her looks and talent, getting blockbuster movies left and right and landing the iconic role of Darna, she is simply one of the most sought after actress in her generation.
Even with such reputation, it still was a surprise for everyone how much Soberano is being paid now. A report from the PhilStar.com said that the young actress was paid three million pesos for her appearance in one event.
The event lasted only for three-hours which meant Soberano allegedly banked a million every hour. According to the source who requested anonymity, the three million talent fee was apart from what the actress got for endorsing their product.
Even for celebrities, the amount is quite huge considering that her 'appearance fee' was much higher than others.
Her bankability shows no stopping, though. With Darna, which she landed the lead the role in, in pre-production, the teen star has still more going on for her.