Commuters traveling to and from Cavite and Manila would be able to complete their journey in just 40 minutes after the LRT 1 Cavite extension project has finished. The operator of Light Rail Transit Line 1 (LRT1) will break ground on the project by late February or early March.
According to Rogelio Singson, Light Rail Manila Consortium (LRMC) president, they can only issue a notice to proceed once they cleared the right of way of informal settlers, etc. under the contract. However, he added that they did not need notice to proceed, just a permit to enter.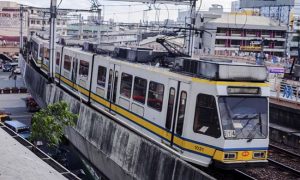 Light Rail Manila Consortium took over the operations and maintenance of LRT1 last September 2015. They also bagged Php 64.9 billion ($1.36 billion) LRT1 Cavite Extension Deal. Under this project, LRT will be extended from Baclaran to Cavite.
Singson added that upon securing a permit to enter, the company can start fencing, clearing and do a lot of engineering works. This was their strategy after experiencing delays due to unfinished right-of-way acquisition and relocation of illegal settlers and utilities.
The Cavite extension would be 11.7 kilometers long and will link the existing system immediately south of the Baclaran Station and run south to Niog, Cavite. There would be eight new stations with 3 intermodal facilities across Pasay City, Paranaque City, Las Piñas City, Zapote and Niog. Its projected speed would be 60 kilometers per hour and is aimed to be completed in about four years or in 2021.
LRMC is a consortium of Ayala Corporation, Metro Pacific Investments Corporation (MPIC), and the Macquarie group, and its current president Rogelio Singson was a former chief of Department of Public Works and Highways.