Millions worth of alleged smuggled gadgets like smartphones, laptops, and security devices had been seized during a raid by Bureau of Customs on a well-known online gadget shop Kim Store's warehouse in Tondo, Manila.
The raid was acted upon by an anonymous tip that the said online shop was selling high-end communications and electronic gadgets imported suspiciously.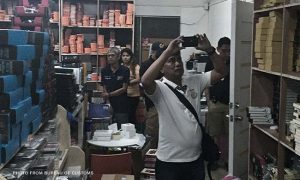 Seized contrabands included boxes of iPhone 7, MacBook, Samsung, tablets, cameras, music players and audio accessories.
According to Customs Intelligence and Investigative Service (CIIS) Director Neil L. Estrella, "There are plenty of cases wherein high-end communication and electronic gadgets are smuggled into the country through misdeclaration schemes – a top form of smuggling – used by smugglers to defraud and avoid paying correct duties and taxes to the government."
An initial report submitted by Officer Joel Pinawin, team leader of the CIIS operating unit, Kim Store is owned by a certain 'Francis', a Filipino-Chinese businessman engaged in selling smuggled items online.
However, they are still validating some intelligence reports to fully identify the real owners of Kim Store in the next few days.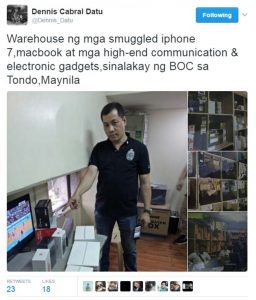 Only the staff was present during the raid, and they were not able to provide documents proving the legitimacy of the imported items. The said warehouse has been locked up and guarded by CIIS agents for the meantime.
Custom Commissioner Nicanor E. Faeldon vowed to often conduct raids in warehouses, storehouses and depots to combat malpractice and related crimes, and ultimately jail those in violation of the law once and for all under his watch.