Many doctors are opting to work abroad as nurses due to better financial opportunities. This is the harsh reality here in the Philippines that the government is trying to fix by raising the pay of government doctors almost twice than their current salary.
This is according to Senate Committee on Civil Service and government reorganization report submitted on December 7, 2016.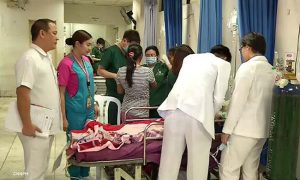 Consolidated Senate Bill 1268 seeks to increase the current minimum monthly salary of public doctors of Php 28,417 (Salary Grade 16) to Php 56,610 (Salary Grade 24) to prevent them from leaving the country. Senators Antonio Trillanes IV, Francis Pangilinan, Loren Legarda, and Risa Hontiveros were the sponsors of the said bill.
In a survey by the Department of Health, there were an estimated 3.5 doctors for every 10,000 people. For government doctors, the ratio to patients was at 3 to 100,000. This is far-fetched from the ideal 1 to 1.5 doctors for every 1,000 patients.
Aside from salary increase, doctors should also be paid several allowances according to the senate bill. One of which is an 'annual loyalty pay' amounting to 75% of their current one-month base pay.
All public doctors assigned to isolated, depressed, or conflict-torn areas are also entitled to transportation/representation, food and medical allowances depending on their area of assignment.
Furthermore, those who have rendered at least 5 years of continuous service in government shall be entitled to an educational grant worth a maximum of Php 250,000 for any medical course or training here or abroad. Doctors who availed the said grant are required to return to service at any public hospital for a period that would be set by DOH.
The said bill is now ready for plenary debates in the Senate. Afterwards, it would be up for approval on 2nd reading before getting the final approval of the chamber. However, it faces a slower pace in the House of Representative since similar bills remain pending in the committee on appropriations chaired by Davao 1st District Representative Karlo Nograles.