For employees looking to plan their vacations early this year, Malacañang released the official list of Philippine holidays for 2017. You might want to take advantages of "long weekends" or those holidays which fortunately fell on Mondays.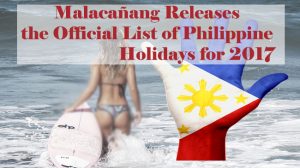 There are eleven regular holidays being observed in the Philippines. For 2017, two of which fell on Sundays, while five were on Mondays.
Regular holidays in the Philippines are usually those with fixed dates, thus are expected by all to be observed. Employees are also paid at least 200% of the sum of their daily rate and COLA if they worked on that day. Here is a list of the declared regular holidays:
· New Year's Day – January 1 (Sunday)
· Special non-working holiday – January 2 (Monday)
· Araw ng Kagitingan – April 9 (Sunday)
· Maundy Thursday – April 13
· Good Friday – April 14
· Labor Day- May 1 (Monday)
· Independence Day- June 12 (Monday)
· National Heroes Day- August 28 (Monday)
· Bonifacio Day- November 30 (Thursday)
· Christmas Day- December 25 (Monday)
· Rizal Day- December 30 (Saturday)
On the other hand, special non-working holidays are more dynamic. It can either be enacted by Congress or declared by the President. For 2017, the Office of the President declared an additional holiday, October 31.
The Palace stated, "October 31, as an additional special non-working day "will strengthen family ties by providing more time for the traditional All Saints' Day commemorative activities, and will promote domestic tourism as well." Here is the list the declared special non-working holidays:
· Chinese New Year – January 28 (Saturday)
· EDSA People Power Revolution Anniversary- February 25 (Saturday)
· Black Saturday – April 15
· Ninoy Aquino Day- August 21 (Monday)
· All Saints Day- November 1 (Wednesday)
· Last Day of the Year- December 31 (Sunday)
· Additional special (non-working day)- October 31 (Tuesday)
You can now start planning your trips and vacations as early as today. Good luck and Happy holidays from OnlineFilipinoWorkers.com